International Quilt Market in Houston, Day Three
Notes from Saturday, 10/28
Read the three previous installments to catch-up. Day One, Day Two (Part One) and Day Two (Part Two)
Lanette and I scrambled to make good time and get to the show before it opened. We were successful – we got there two minutes before it opened. We meant to get there at least a half hour before it opened. But, I did run into Doug and Vicki, the folks from Kona Bay fabrics, and we talked about the upcoming issue of Asian Fabric magazine which includes our new Noriko Bag pattern, so that worked out well. 
I got my coffee, pulled out my cheat sheet and started surfing the exhibit hall. My company didn't have a booth at the show so I was free to run around and see everyone. I stopped by Clover's booth and met with everyone to find out what was new and what they need of me in the next year, (samples, input, whatever). Then I had a few minutes to visit with Mr. Okada and it was so nice to see him again.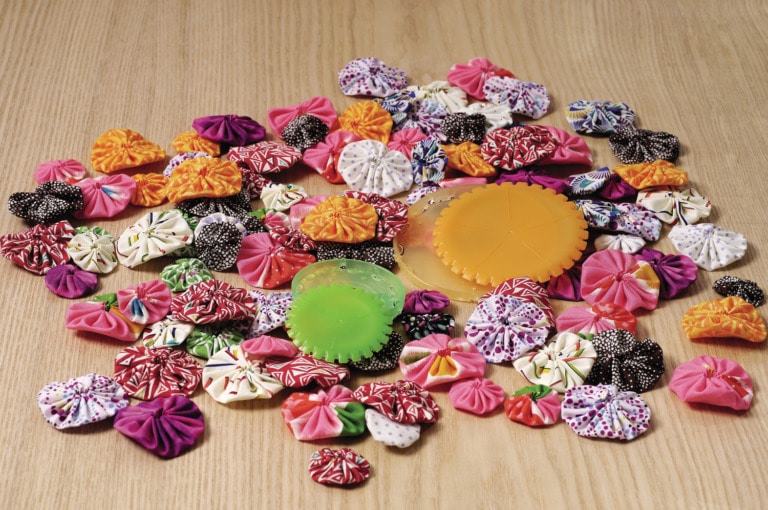 I stopped and watched the demonstrations for all the new Clover notions and my favorite is the Yo-Yo maker. Now, you might be surprised to hear this, but I like handwork. I always have. So, I had to give this a try. I sat down and made a wonderful little yo-yo. It was perfect with no fuss. How did Clover know I needed help with my yo-yo's?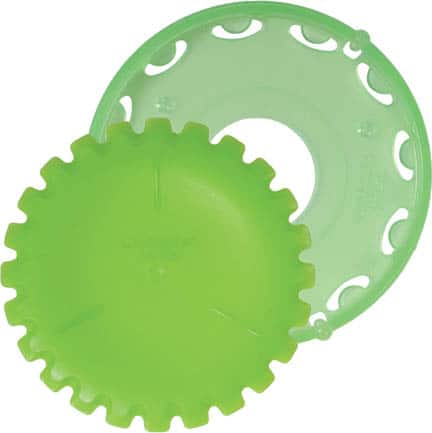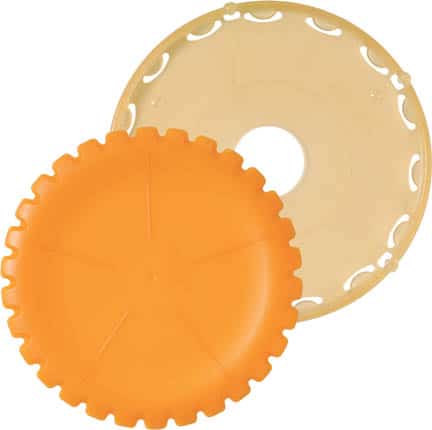 The Clover yo-yo maker is similar to a little tiny quilt hoop to hold your circle of fabric. The two sizes are shown above.  The inside of the hoop is a disc, the outside is similar to a tray. Snap your fabric circle into the yo-yo maker, then you do a running stitch around the edge using the stitching guides.  The stitch guides look like little crescents along the edge.  Go in through the beginning, and out at the end of a crescent to make a stitch.  It's just that easy!  Afterwards, pop that little cutie out of the hoop by pushing through the hole in the middle, pull the threads to gather the circle, and tie a knot. I loved it. I could have sat there for a while making yo-yo's, but there was a crowd of people, at least three people deep, waiting for their turn, so I had to move on. Clover had a few samples that used yo-yos and they were just too cute. One sample used a cascade of yo-yos as a surface embellishment. Oh the fun. I wanted to come home and play with it right away.
I found my way over to the booth where Rita (of Creations SewClever) was demo-ing and had a chance to finally meet Linda Franz. Rita met Linda recently and I've been listening to Rita go on and on about Linda since then. So, when I finally got to meet Linda I walked right up and gave her a big hug. I don't think she expected it, poor girl. I watched Linda demonstrate her Inklingo software and was so impressed. Now, she's a sharp cookie. Linda is shown here holding her reknowned monkey. Click on the monkey for a closer look.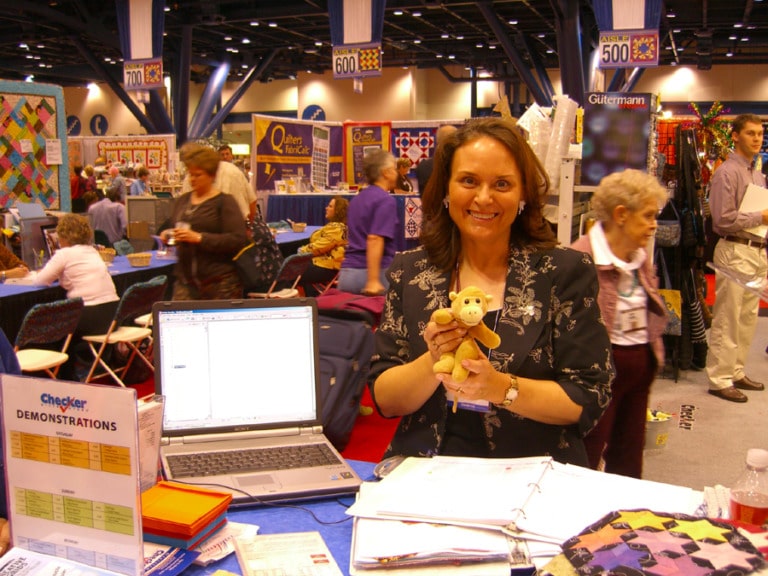 You can see a video for Inklingo on Linda's website The Inklingo software allows you to print pieces of a quilt block, with the stitching lines, on the back of any quilting fabric. You put freezer paper on a piece of fabric, (letter sized) and feed it through your ink jet printer. I could definitely do some of this.
I had lunch with Janet, Barbara and Joan of Calico Gals in Fayetteville, NY. Calico Gals won one of five 'Laziest Shop in America' awards two years ago. I stopped by Leisure Arts and picked-up the new book by Tammy Kelly and had it signed.  http://tinyurl.com/ydjpac  It was nice to see Tammy again.
I stopped by and caught-up with Jeanne of Block Party Studios. http://www.blockpartystudios.com/index.html  Jeanne has a new scissors leash to wear around you neck. It has this printed on the leash 'Give a quilter an inch and she thinks she a ruler'. The leash is styled after a measuring tape. Too cute!
As I concluded my journey around the exhibit hall, I saw Mr. Okada meeting with a gentleman at the Lecien booth, Japanese fabric manufacturers. Lecien supplied the fabric for my classes on my last trip to Japan. I remembered just enough Japanese to interrupt their conversation and greet both men. They took a moment to discuss something amongst themselves, and they were both smiling, so I guess I did alright.
I finished my day by meeting-up with my friends Beryl, June, and Lanette for dinner. Well, Lanette and I raved about the crab cakes so much that we all went back and had more. This time, however, the cakes were the main course and we all ordered salads or a side. Okay, they had salads, I had an Idaho Baker. The potato wasn't quite as big as my foot, but it was a darned good potato none the less. Yum. Beryl and her hubster Wally sell their Bo-Nash products on QVC so I had a chance to find out what was going on with that as well as hear about Wally's run for a seat in the House of Representatives – Good luck on November 7th!
I had a chance to see almost everyone I wanted/needed to see. Lanette and I were up until one in the morning talking about the show. On my flight home on Sunday the man in the next seat said something about appreciating the extra hour of sleep due to the time change and asked if I enjoyed it. I said that I didn't get an extra hour of sleep, I merely got a different hour of sleep and needed more. It was a good trip. My feet still hurt. And I have tons of stuff to follow-up on.
This is the end of our report for International Quilt Market in Houston, October, 2006 – Great trip!
Joan
Lazy Girl Designs
Yo-Yo images courtesy of Clover Needlecraft, Inc.
Leave a Lazy Comment
8 Responses to "International Quilt Market in Houston, Day Three"
Trackbacks/Pingbacks
Pingback: Quilters Showcase » Fall 2006 Quilt Market photos of designers and their new quilting patterns

Pingback: Purse Patterns, Tote Bag Patterns, Quilt and Sewing Patterns from Joan Hawley of Lazy Girl Designs