Hospital Gown pattern review
Lazies, A member of the website Pattern Review recently posted a very nice review of our free hospital gown pattern.  You can find the review here.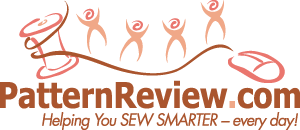 Once at the review, click on the little tiny image of a green camera near the top to see a picture of the gown.
I love the Pattern Review site.  I've been a member for years.  A basic membership is free, otherwise known as creating a user name and password.  A 'Friends of PR' paid membership offers some nice benefits such as participating in expert chats, etc.  Visit Pattern Review and take a look around.  PR hosts a wealth of information and resources from real people like me and you, for anyone who sews. I love PR's contests and have sponsored a couple of them.
I love the pattern reviews because, as a pattern designer, I get to read terrific feedback about my products as well as other company's products.  The reviews are like interviews with the person who made the project.  This unfiltered, honest, frank feedback is invaluable to me, whether it's about my products or not.
Okay, back to our hospital gown pattern.  This pattern has been available on our website since March of 2005, I believe.  Our site statistics show that this pattern is viewed/downloaded an average of 1,000 times a month.  That number amazes me and it also tells me how much of a need there is for this item.  Rosie's Calico Cupbard in San Diego, CA, includes a link to the pattern in its very popular newsletter – Thank You Rosie!  Sew News magazine has mentioned the pattern in a number of issues this year.  I am completely okay with that, and a big Thank You to Sew News!
Click on the image above, to the left, to read the Making Connections column from May 2006. To the left is the cover of the August issue where our hospital gown pattern was profiled in the 'Giving Back' column.
Rita of Creations SewClever in Chillicothe, OH, (hospital gown cohort and designer) and I are working on another hospital gown pattern for children that will contain three sizes. We started on it a while ago, then something didn't look right with the sizing so we are putting our heads together later this month to see if we can figure out what the heck we are doing.  I will keep you posted.
Joan
Lazy Girl Designs
Images courtesy of www.PatternReview.com and Primedia.
Leave a Lazy Comment
6 Responses to "Hospital Gown pattern review"