Solar Powered Sewing And A Treasured Button Find Make This Sassy Bag
Lazies, We have a new addition today to our 'Show Us Your Lazy' project feature. Lazy Girl Dian Schwanz of California tells us how she built a Lazy Girl Designs Sassy Bag (LGD108) around a treasured button find and made it on her sewing machine powered by solar energy.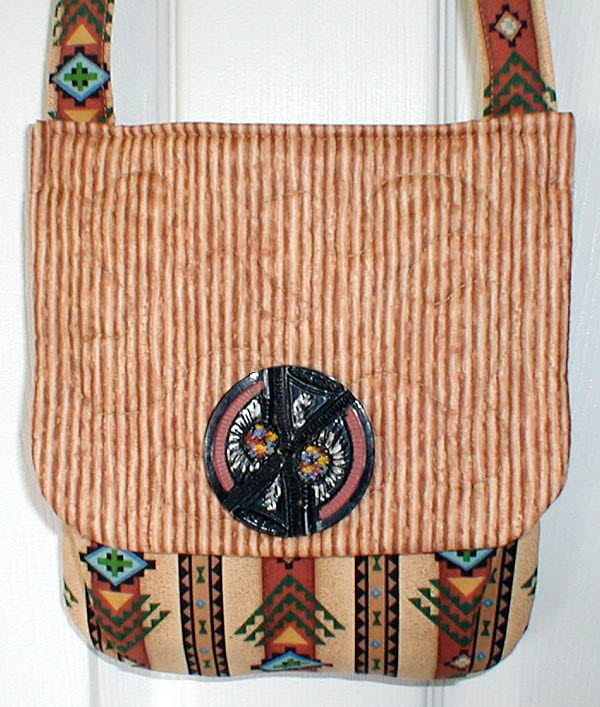 Here's Dian:
'Hi, I just finished my 1st Sassy Bag purse and it was fun! I was at a yard sale recently and bought someone's button box. The woman whose button box I have, was a real collector. I love all of the buttons. I hope she knows they have found a good home. A couple of the items in the case look like large Lucite clip items. My next project will be one of Joan's patterns to showcase them.

Check out this button. The fabric was some I had in my stash. I made the purse for myself and made no alterations. This bag was made strictly to show off the button.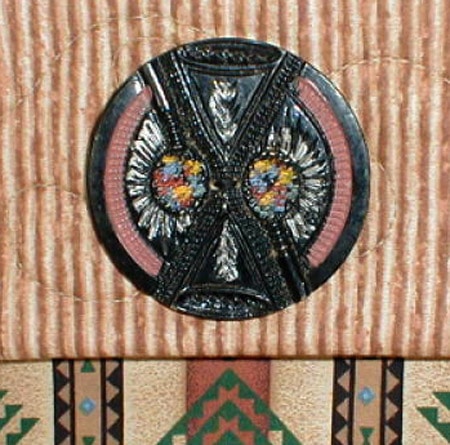 We live in central California in a remote mountain area about an hour east of Bakersfield. We came to this area from Orange County in Southern Ca. What a change in lifestyle, but we love it. When I go shopping it's either Bakersfield or Tehachapi. Twin Oaks has no town just a church, grade school, real estate office and an old school that has been converted to a small store and restaurant.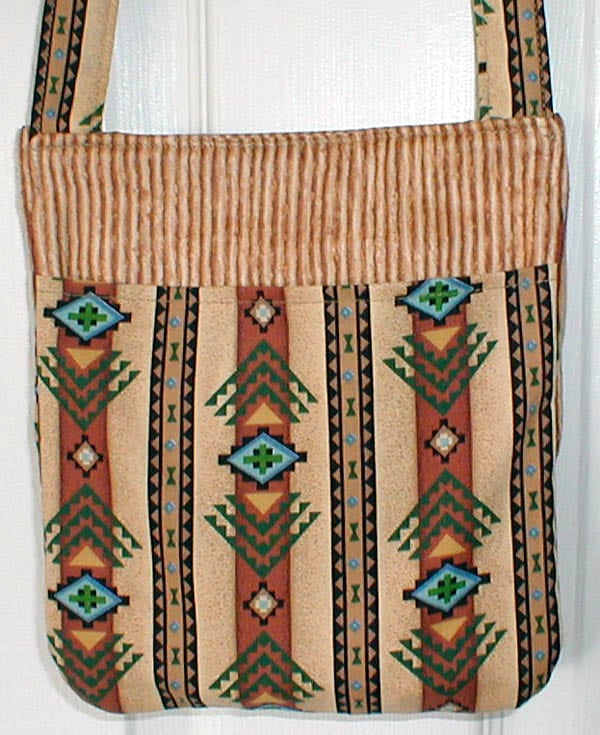 This past year we have had a coffee shop and a one chair beauty shop open. We also have a community building where some of the women from the area meet for "Club". No stop lights or stop signs. Big time in our area is either Bingo, Bunco, Karaoke or a school fund-raiser. We have no gas available since they made the store take out the underground tank.
I do have a phone but all the lines are old and too slow for any on-line work so I have a satellite connection. We pump our water and are on solar for all of our power. It's too far from electric to have it put in. Everything works with the solar system – the microwave, TV's, and my Pfaff sewing machine (most important items).
I thought I would use my new Sassy Bag as a shopping purse. It's easy to carry and does not get in the way. I did find if you want to make a "fast run" through the grocery store, it's not the bag to carry. I was stopped three times and asked where I bought it!'
– Lazy Girl Dian
Thanks Dian! I love buttons and this one is outstanding!
Part of the appeal of the Sassy Bag is that it was engineered to hang close to the body without being in the way. The shoulder strap is attached flat across the top to let the bag hang like a saddle bag. The Sassy Bag is designed to only be a big as what you put in it. It starts off thin then expands to the size of the contents.
One of my goals for the Sassy Bag design was for it to serve as an alternative to a belt bag or a waist bag which can be bulky or cumbersome. You can wear the Sassy over your shoulder like other purses. Or for hands-free shopping and extra security when needed, wear the Sassy from one shoulder crossing your chest and hang at the opposite hip.
When I wear it this way, the top edge of my Sassy Bag lands where the opening to a front pants pocket would be, just where my left wrist naturally falls. So the Sassy Bag is like an extra pocket, right were your hand naturally hangs – couldn't be any more convenient than that. The Sassy is great for travel, sight seeing, shopping, etc. During cold weather, I wear my Sassy under my long coat just like it was part of my outfit and no one knows it's there but me.
I talked a little bit about making the rounded corners on the Sassy Bag earlier this month here.
Leave a Lazy Comment
7 Responses to "Solar Powered Sewing And A Treasured Button Find Make This Sassy Bag"