Meet Our Newest Lazy Girl – Cheryl Johnson!
Lazies, Earlier this week, I issued a Lazy challenge to my friend Cheryl Johnson at Leisure Arts. I found out that Cheryl had never made a bag or purse.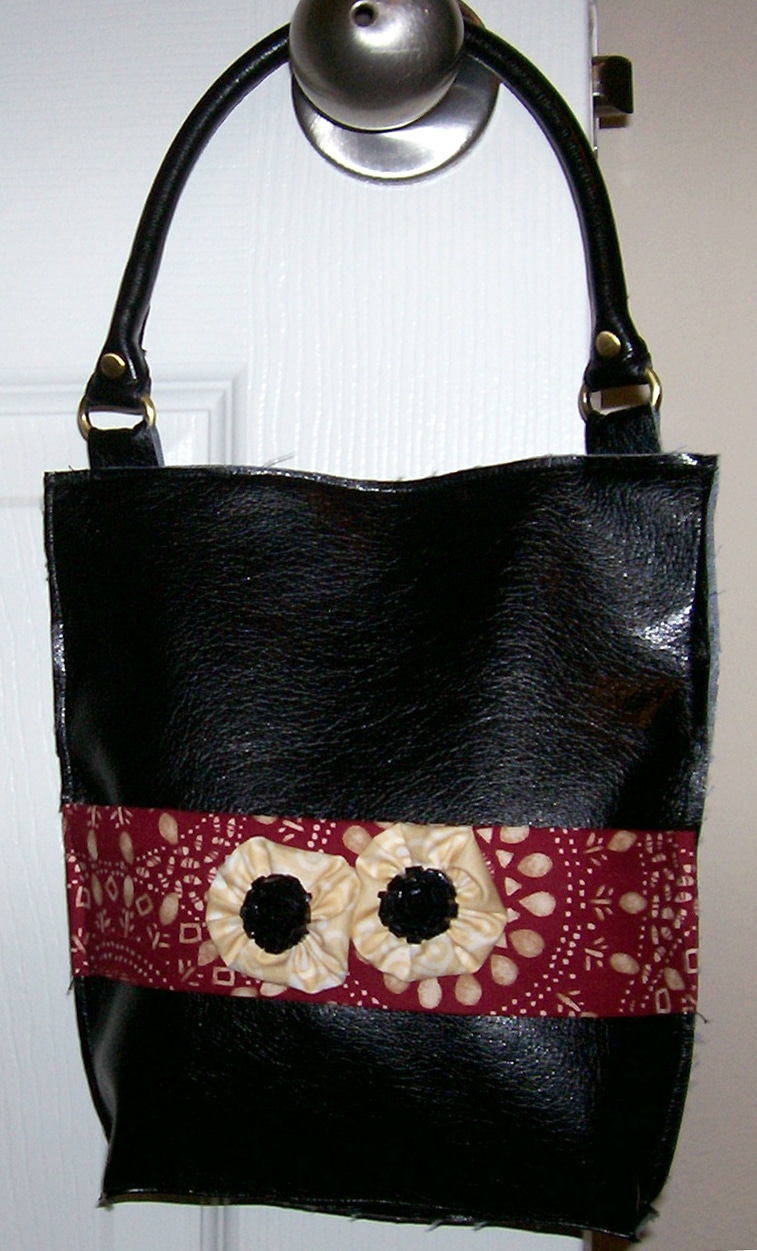 After I picked myself up off of the floor, I decided that I needed to correct Cheryl's misguided crafting and I aimed my sights squarely on her jugular with a public challenge. It was a simple challenge to create one of my designs.
Cheryl rose to the challenge and posted her conquest on her blog yesterday – Good girl Cheryl, I mean Good Lazy Girl!
Let me set the stage for Cheryl's frightening transformation to becoming a Lazy Girl:
     It was a dark, cold, rainy night and Cheryl's spiffy new sewing machine was taunting her from the other room. With the echo of my challenge circling her psyche, Cheryl could not resist the call of the Mod Bag. I had her right where I wanted her….
Here's Cheryl:
     "OK…so here's my response to Joan's challenge. My Mod Bag, complete with a zipper. My only added rule was that I would use only stuff on hand…except for the zipper. I did have to buy one of those. Nearly completed in one evening. I think I need to add a ring with some fun embellishments from one of the handle tabs, but I have to get the embellishments (beads, ribbons, something else to add interest up there in all that black).
Now that I have semi-successfully installed said zipper, I would like to try my hand at another bag. Thanks, Joan. I hope you are very pleased with yourself. (Note: the easiest way to get me to do something is to present the idea that I probably won't. I like to surprise people almost as much as I like to surprise myself.) I am as wise to your ploy as you are to my weakness, so there.
The next thing I'd like to try is the Runaround bag, but I'll have to track down the pattern first. I have some very nice fabrics that I got on my last buying spree at Blossom Quiltworks that would make a lovely little bag when I track down the pattern (and another dang zipper)."
I love Cheryl's embellishments for the Mod Bag. A simple strip of colorful fabric gives the bag balance and adds a new design line.  The fabric and bling surface goodies give the bag dimension.  Cheryl, dare I say you've achieved Lazy Girl status in a most stylish way. Your grade: A+.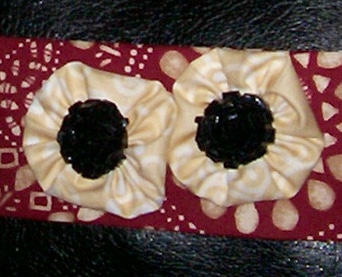 Cheryl, we await your next update with zipper-baited breath.
Images courtesy of Cheryl Johnson.
[tags]faux leather, handbag pattern[/tags]
Leave a Lazy Comment
3 Responses to "Meet Our Newest Lazy Girl – Cheryl Johnson!"