Lazy Girl Bobbie Bentley Featured in Leisure Arts' Newsletter for her Bold Bags Creations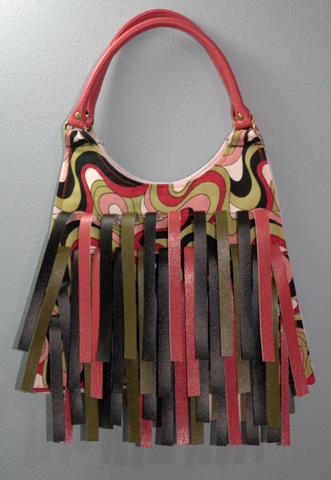 Lazies, We have a new 'Show Us Your Lazy' feature today! Bobbie Bentley of Florida has proved her Lazy Girl status once again with her collection of four Lazy creations from our new Bold Bags book. 
And to top it off, the Lazy Girls over at Leisure Arts have featured Bobbie in the 'Linking Up' column in their January newsletter.
From Bobbie:
     'Sewing has always been a passion for me. I am so glad I found Joan Hawley's Lazy Girl Designs web site. What fun and an email list to boot! Joan always has something exciting to share with all of us Lazies.
In August 2006 Joan sent a message to the group with a sneak preview of the upcoming Bold Bags collection for Leisure Arts. The photos took my breath away, how refreshing and new. I rushed to the fabric store to find Leisure Arts. It was such a pleasant surprise to see the beautiful colors and quality of the products. The Bold Bags book was not available yet but I had to have the Mock Crock and findings. Little by little I built my stash waiting for the book.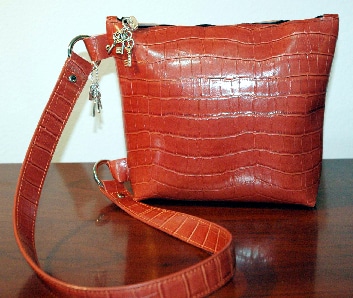 I finally received the Bold Bag book in late December, it is worth every penny. The presentation and Joan's directions are easy to follow. Joan and Leisure Arts have teamed up to make a master piece.
I had to make the Cup of Coffee bag first. I love this little café latte. I embellished it with some cute little key charms I had in my stash. I also used the matching shoulder strap with the attached silver rings in the same orange Crock. The pattern called for the small black handles but when I saw the matching shoulder strap handle I couldn't resist. The orange Mock Crock looks more like a rich coral color to me.
The hand bags are fun to make, just follow Joan's lazy and easy instructions. I found the Mock Crock incredibly easy and quick to sew. If you have a walking foot for your machine it's even quicker. I used paper clips to hold the Crock pieces together during sewing rather than pins, they worked very well.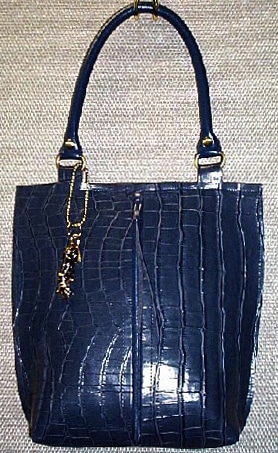 I received many compliments the first time I carried my Cup of Coffee. It's so darn cute. There is nothing else like it. My next Bold Bag was the Mod Bag made in the deep rich blue Mock Crock. It's such a sweet, quick pattern.
Joan's zipper instructions are so easy even a cave man can do the zipper. The small, blue, pre-made handle matched perfectly. I embellished it with a Jaguar charm from my stash. I wish I could find a pair of shoes to match. This little bag is great for a special occasion or you can pack it away inside the Lazy Girl Summer Tote.
I couldn't stop at just two of these Designer Bags and had enough Maroon Mock Crock to make the Sling bag. I chose the option of a shoulder purse instead of the back pack, which is a very nice feature of this pattern. The Maroon looks more like a Sparkling Sherry color to me. I had a pretty batik fabric in my stash that I was saving for just the right project, it worked perfect.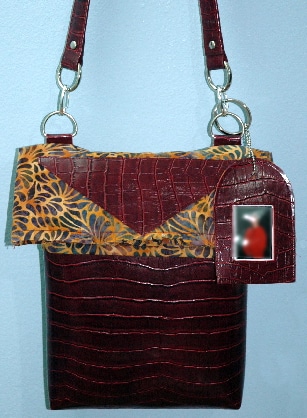 You don't have to worry about a zipper with this fun little Sling, a magnetic snap is the bag closure. The style is so fresh and different with plenty of room for goodies. I had just enough left over Crock to make a photo key fob embellishment using one of the free Leisure Arts patterns included with the Mock Croc sheets.
If you don't have the new Exclusively You, Bold Bags Book with Joan Hawley's patterns, its well worth the effort to find it. I'm so excited with my purchase. My next project will be the Hippie Bag.
– Cheers and happy Bold Bags, Bobbie in Sunny Cocoa Beach, Florida'
Bobbie, that's a whole lotta Lazy! Thank you for sharing your creations with us.
Images courtesy of Bobbie Bentley.
[tags]hippie bag, sewing patterns, faux leather[/tags]
Leave a Lazy Comment
5 Responses to "Lazy Girl Bobbie Bentley Featured in Leisure Arts' Newsletter for her Bold Bags Creations"
Trackbacks/Pingbacks