Bold Bags Book, Supply List for Projects
Lazies, Leisure Arts sent me this handy supply list, or cheat sheet, for the bag projects in my new Bold Bags book.
Click and print the cheat sheet: Bold Bags supply list for Exclusively You products
The supply list only includes the Exclusively You faux leather, mock croc, and other items from that product line. You will still need all the other supplies as noted in the book. However, this nice cheat sheet includes a thumbnail picture of each of the seven bags. That makes this document the only place I've seen pictures of all seven projects together, outside of the book.
Some product notes: I really like the Elderberry color of the 13″ Double Purse Handle in Smooth Faux Leather.  Leisure Arts offers three pinks and this one, in my humble opinion, matches the best with the current pink color trends in our quilter's fabrics. I've used these handles in two 'Hippie' bag samples using fabrics from Blank Quilting and Lakehouse Dry Goods.  We are also showing the orange (I think it's more tan) mock croc 27″ shoulder strap.
You can see all of the Exclusively You products at Leisure Arts' website.  I heard from Leisure Arts that my new book was added to their website today, as well as my blog!  I have to say kudos to Leisure Arts for supporting the blog-inization of the internet by offering blog links that support their products.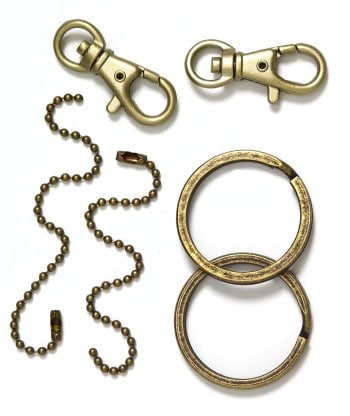 I really like these hardware offerings. The combination of a split ring (think key ring) and a swivel clasp is a fabulous way to create a 'fob' that you can clip to anything. The split ring makes a wonderful finger-grab. Just attach it with a narrow strip of croc or leather used as a loop sticking out from a seam.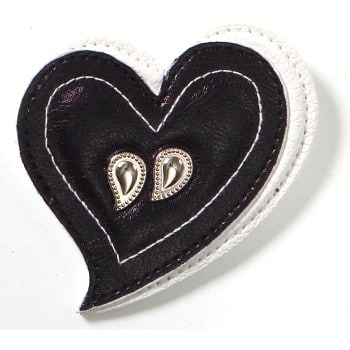 And some of my favorite elements of the Exclusively You line are the pins, like the black/white heart shown above.  I used a green/black heart on the Bucket tote, suspended using a chain (shown above) from a handle.  Easy!
Enjoy!
Joan
Lazy Girl Designs
PS: 'Bold Bags' was also profiled at Quilter's Showcase today!
Images courtesy of Leisure Arts.
Leave a Lazy Comment
One Response to "Bold Bags Book, Supply List for Projects"