Lazies, Last week we talked about the all-powerful zipper, I mean choosing a zipper for our project. This week, let's talk thread. Now, you might be thinking, oh puh-lease, the Runaround Bag is a tiny little project with barely any thread showing here nor there. Yep, pretty much. But that doesn't mean it's not a design decision – it is.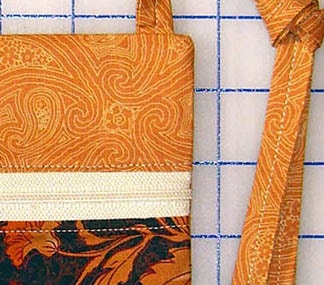 Topstitching details.
Who's who in this production and what role does thread play in this project?
Leading role – star of the show (bag design, fabrics, zipper)
Supporting role – makes the star look good and rounds out the story (topstitching thread)
Accent role – a mini star, shines a bit less than the star, works with the star and makes them look good (button/yo-yo/fiber embellishments)
Prop man – works behind the scenes and we don't see him (batting, construction stitching at seams)
Here's our project: the Runaround Bag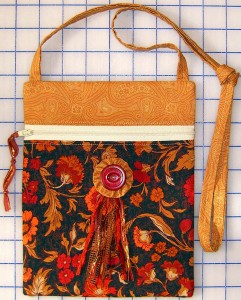 Now we know what the thread is supposed to bring to the project and that will help in our selection.
Auditioning Contenders
Last week I told you I wanted to play up the warmth of the browns/tans in these fabrics and chose the ecru colored zipper. So, it was off to my thread pool to see who wanted to come out and play. Gosh, I have a lot of neutral brownish tones. And black. I gathered everyone up and we set up another audition. Here is what my thread audition looks like. Arrange the fabrics and the zipper, then lay the threads across everything, side by side for a comparison.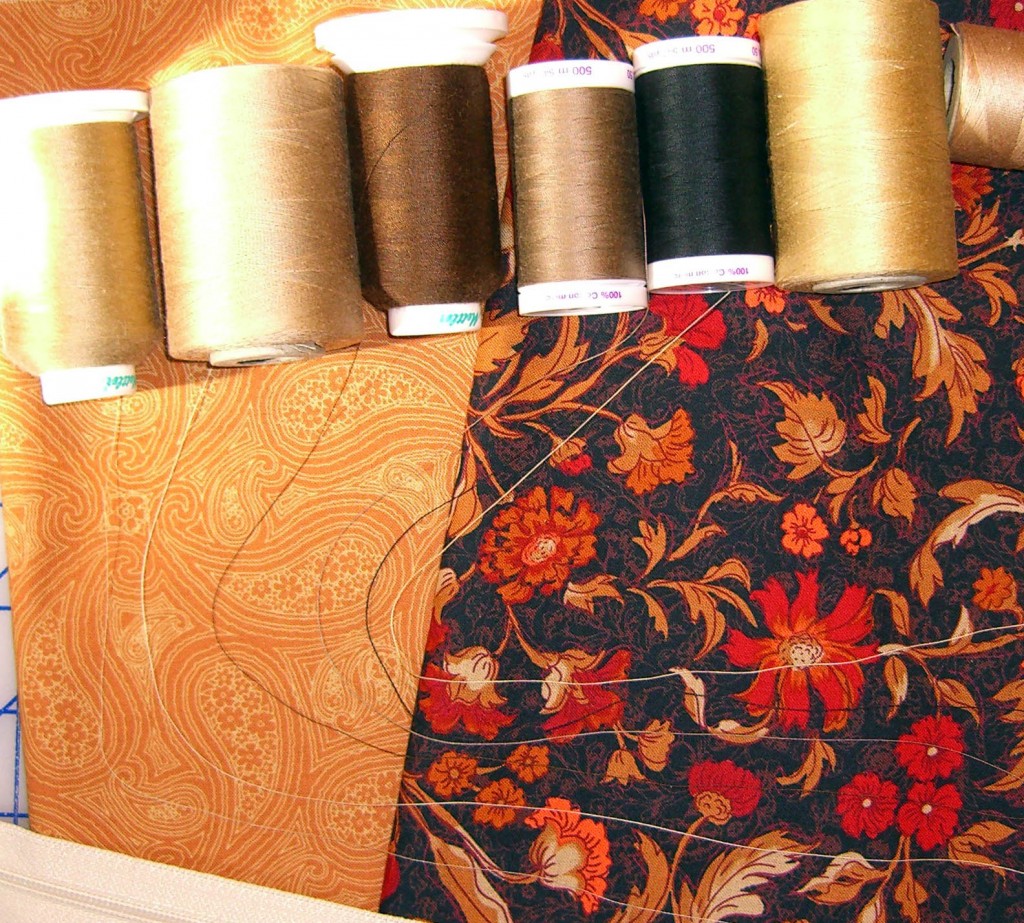 You can't really see what I see when doing this, so I enlarged a section, shown below. The zipper is just barely in the picture at the bottom left.
Let's start from the bottom.
Thread #1 gets totally lost on the tan, shows a little on the black.
Thread #2 shows nicely on both and blends with the light lines on the tan – nice!
Thread #3 is brown, it coordinates, but does nothing for the project.
Thread #4 is kind of a milky neutral, barely shows on the tan, but shows too much on the black.
Thread #5 is black which disappears on the feature fabric.
Thread #6 is too bright, which would make it the lightest/brightest thing in the project.
I chose thread #2 because it matched the ecru colored zipper and showed up nicely on both fabrics. That makes it a good supporting character in our production. There really isn't a right or wrong colored thread for this project. But some would have faded into the background, or stood out on one fabric.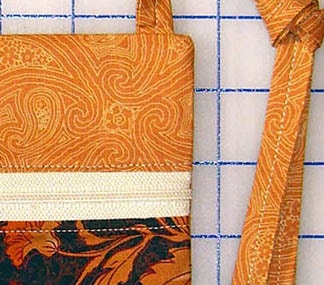 With topstitching on both fabrics just next to the zipper, I chose the thread that showed nicely on both to offer balance. And the thread coordinates with the zipper, thus giving us the opportunity to repeat the zipper color elsewhere on the bag, reinforcing the zipper choice and it ties all the elements together.
The topstitching and thread on this bag are finishing details. They are not as prominent as perhaps an embroidery design, or quilting stitches might be. They finish things much like the period at the end of a sentence     (Without it, you'd miss it.)
Enjoy!
Joan