November 26th, 2007
Lazies, Look at the beautiful Wonder Wallet I found in the Cedar Canyon Textiles booth at Quilt Market last month in Houston.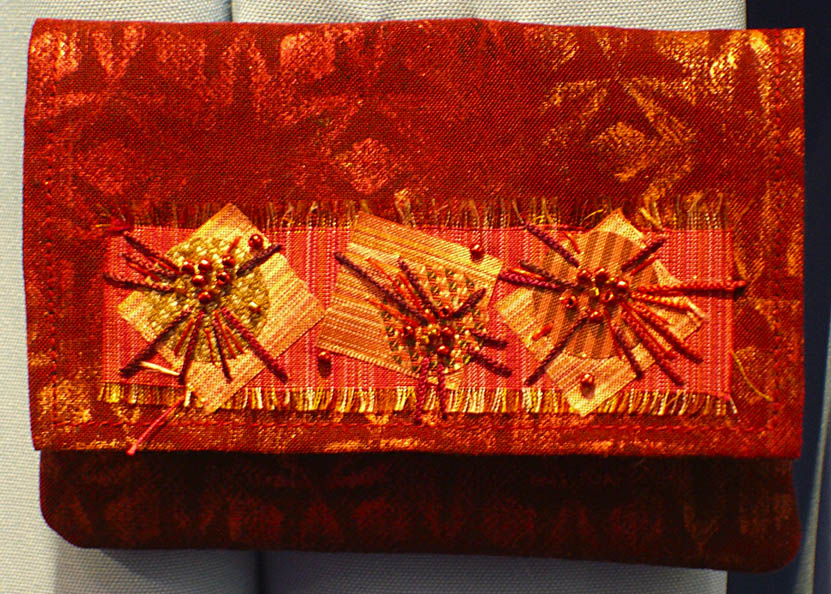 Wonder Wallet, LGD211. Click image to enlarge.
The Challenge
Shelly Stokes, President of Cedar Canyon Textiles, challenged her small quilt group to make some goodies using her products and mine. Shelly sells the Shiva Artist's Paintstiks, and all things needed to paint on fabric. This includes the Paintstiks (paint in the form of a crayon), rubbing plates, stencils, brushes and a great DVD. You can see all of this on her website here.
Shelly painted some beautiful Burmese silk fabrics and collected some Oliver Twist fiber bundles. Together with my patterns, these are the items Shelly's group made for her.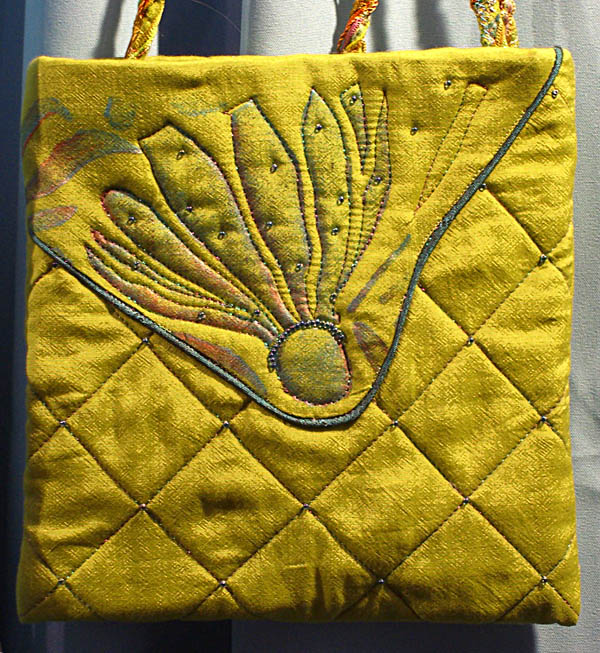 Katy Bags. Click image to enlarge.
Here's Shelly:
Joan, I took your patterns and an idea to my small quilt group, and they are ready to roll. I need to paint up a bunch of fabric for them. They loved the idea of a small challenge, especially something from simple patterns. Should be fun!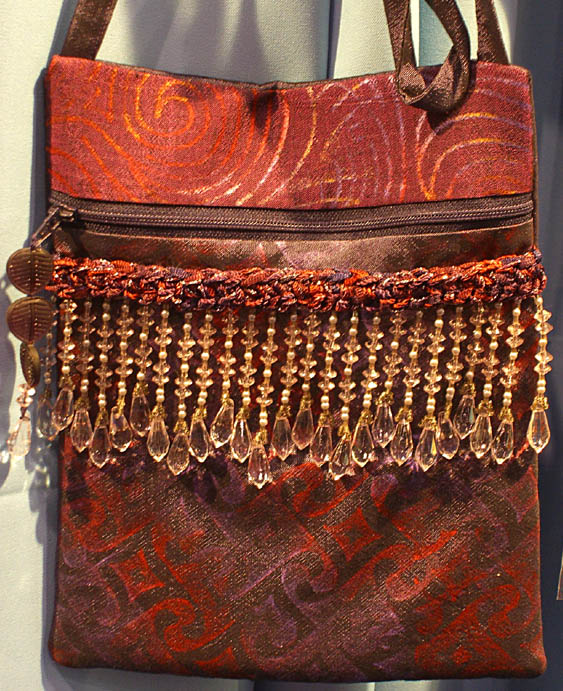 Runaround Bag, LGD111. Click image to enlarge.
I purchased a bunch of Burmese silk and will make up a batch of kits of fabrics that have paintstik rubbings as well as some Oliver Twist fiber bundles as they were excited about those. The ladies in the group agreed that they would make a simple item from one of your Lazy Girl patterns. We'll see how the experiment turns out. – Shelly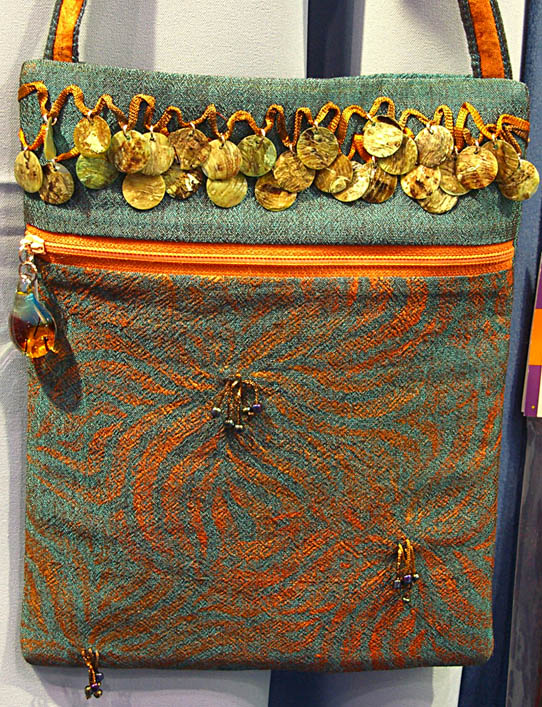 Runaround Bag, LGD111. Click image to enlarge.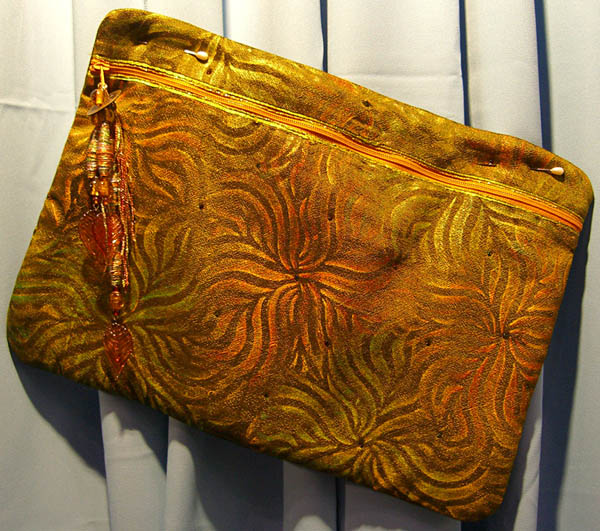 Perfect Pouches, LGD113. Click image to enlarge
for better detail, including the beaded zipper pull.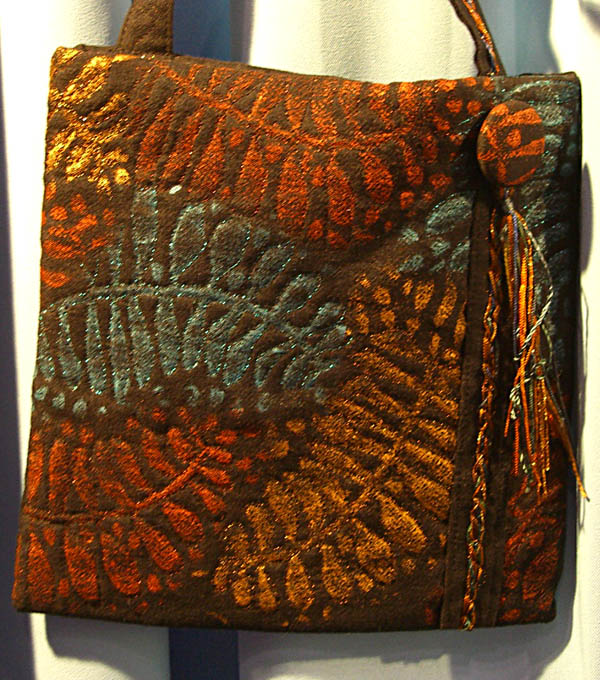 Katy Bags, LGD121. Click image to enlarge and see fabulous fiber detail.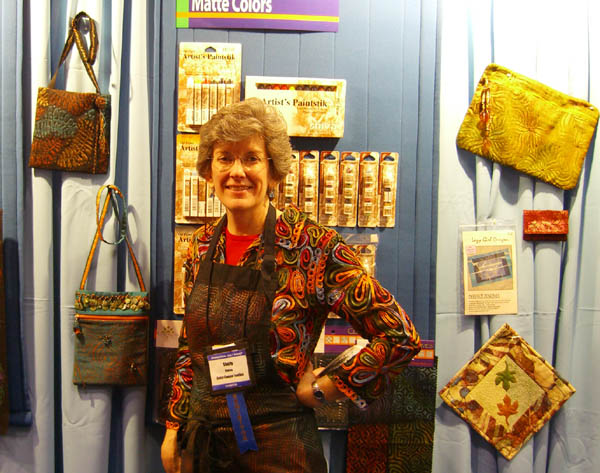 Shelly Stokes in her booth at Market, surrounded by Lazy goodies.
I'd say the experiment was a success! I love the items Shelly's group made.
What To Paint?
Fabrics that read as solids work the best. Embellish your fabircs, then heat set the paint if desired, and make something wonderful. Most things that can be decorated with stencils are good candidates for Paintstik fun. From ready-made apparel to home dec and accessories. I have a few simple scarves and wraps that have Paintstiks in their futures.
Getting Started With Fabric Painting
Consider one of the starter packs that Shelly offers as a gift to yourself or a friend this holiday season. Also, you can watch a short video on how to use these products over at the BeSewStylish blog here.
Lazy Girl Designs Patterns
See all of the designs shown on our website here.
Enjoy!
Joan
Tags: fabric paint, embellish fabrics, stenciling, Cedar Canyon Textiles, Shelly Stokes
Print This Lazy Post