Attaching Purse Accessories Just Got Easier With Our New Handy Tabs
Lazies, I'm excited to announce our new Handy Tabs product line!
Handy Tabs are ready-to-sew fabric strips used to attach accessories (handles, 'D' rings, etc.) to your purse and bag creations. Simply stitch the tabs into a seam to make a loop and you're done. They are the little pieces of fabric connecting the handle to the purse in the logo below.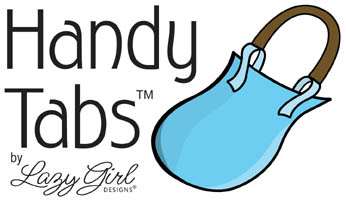 Problem Solvers
Every time I need to attach fashion handles or another accessory to my project, I have to cut, fold and press the perfect piece of fabric. It's tedious and I need to be accurate. And all those folded layers of fabric add bulk to the project. I'm tired of it and wanted a better option.
Designed For The Job
Handy Tabs are just the right length and width, they're strong, and finished on all edges. They offer convenience as well as reducing bulk during sewing.They'll work with all sorts of accessories and are perfect for making hanging loops for small quilts or other projects, too.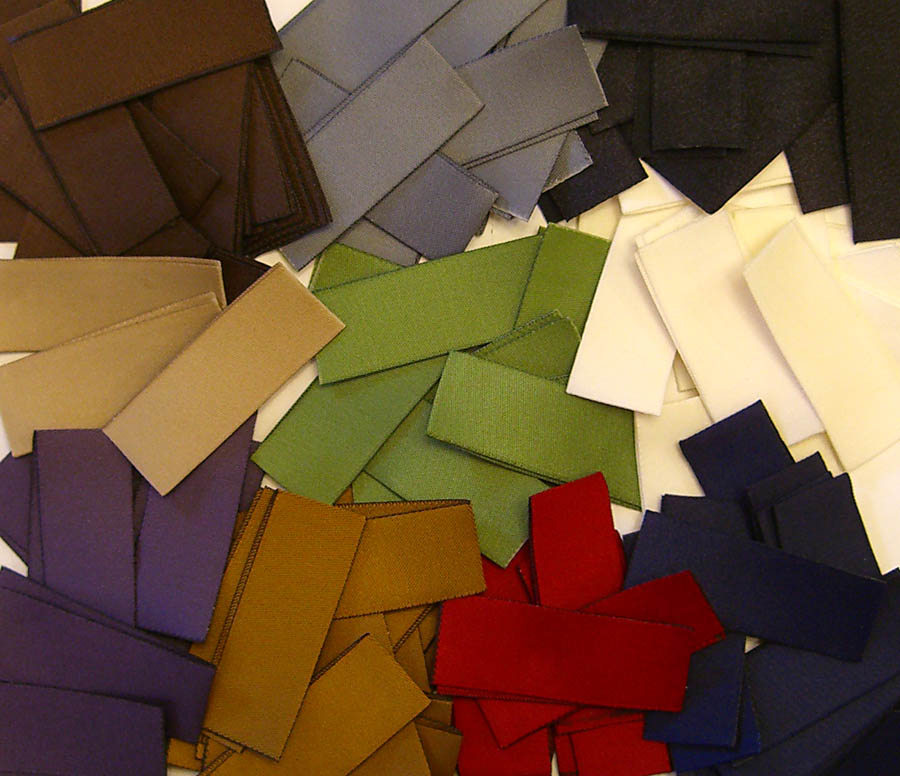 Ten scrumptious colors of Handy Tabs. Click to enlarge.
Blendable Colors Yummy Enough To Eat
I put together a collection of basic and trend colors that work with our quilting fabrics. Handy Tabs are woven, offering depth and dimension, making them blend with a wide range of colors. The array of colors reminded me of my spice drawer, so I chose colors names from the kitchen.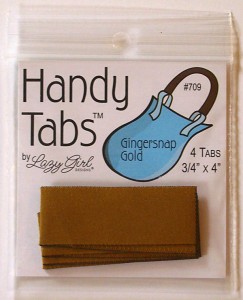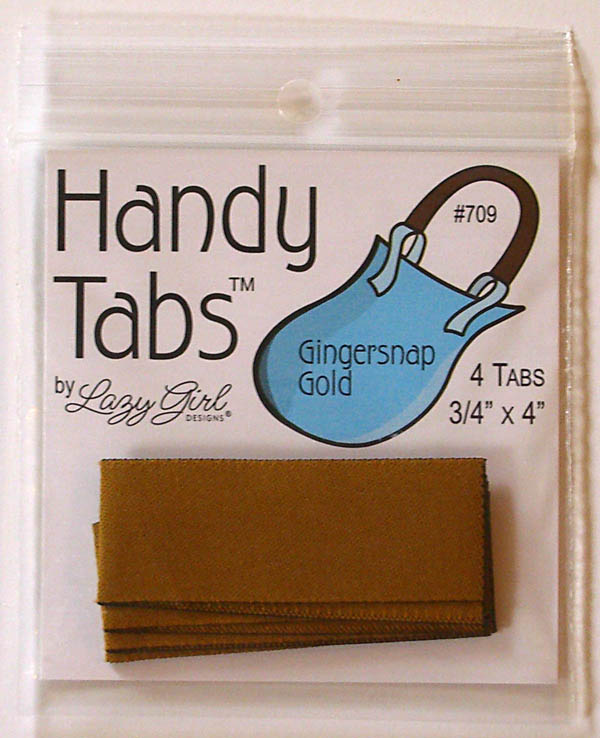 #701 – White Rice
#702 – Peppercorn Black
#703 – Soup Can Gray
#704 – Dark Chocolate Brown
#705 – Cookie Dough Tan
#706 – Blue Berry Blue
#707 – Roasted Red Pepper
#708 – Oregano Green
#709 – Gingersnap Gold
#710 – Plum Purple
Details: Available Now!
Quantity: 4 tabs per package
Suggested retail: $3
Tab size: 3/4″ x 4″, (folded to 2″)
Convenience and Consistency
Handy Tabs are folded in half, ready to be sewn into a seam, or onto your project, to create a loop. And they are all the same size, so things hang evenly.
How To Choose A Color?
How to choose? Think of your shoes. Handy Tabs will be used in a place that will need to blend or compliment the project. Much like the versatility of your shoe wardrobe. I have lots of black, a few other earth tones, a few fashion colors, etc.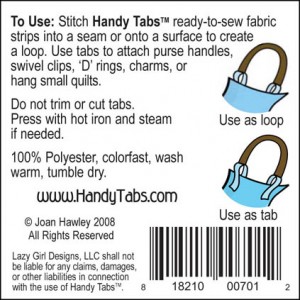 Package back. Click to enlarge.
Dress 'Em Up
Handy Tabs are great as is, but you can dress them up, too. I'll have more about this in future blog posts, but you can do all sorts of things to Handy Tabs to personalize or embellish them. They can be stitched on, glued, painted, pressed, embroidered and more.
Gotta See Em?
If you are attending Quilt Market in Portland, OR, this week, look for this Handy Tabs display in your favorite distributor's booth. It's a half-sheet poster with one of each color tab along the sides.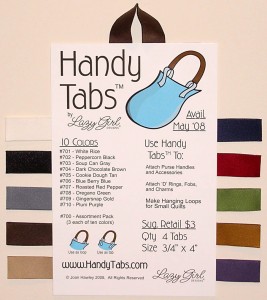 I'll have more about choosing and using Handy Tabs in future posts. Handy Tabs are in stock and shipping now.
Enjoy!
Joan
Leave a Lazy Comment
12 Responses to "Attaching Purse Accessories Just Got Easier With Our New Handy Tabs"
Trackbacks/Pingbacks