Quilt Market Samples and a Lazy Challenge
Lazies, Eye Candy Alert – pretty pics to share. Although I'm not attending Quilt Market next month, I have been working on some samples to send to the show and have two little beauties to share today. I'm also hosting a challenge in my Yahoo group and have details at the end of this post.
'Freebird' Claire Handbag
First up, this scrumptious orange and brown cutie is a Claire Handbag all dressed up in 'Freebird' by MoMo from Moda.  My goodness, every piece of this collection warrants drooling.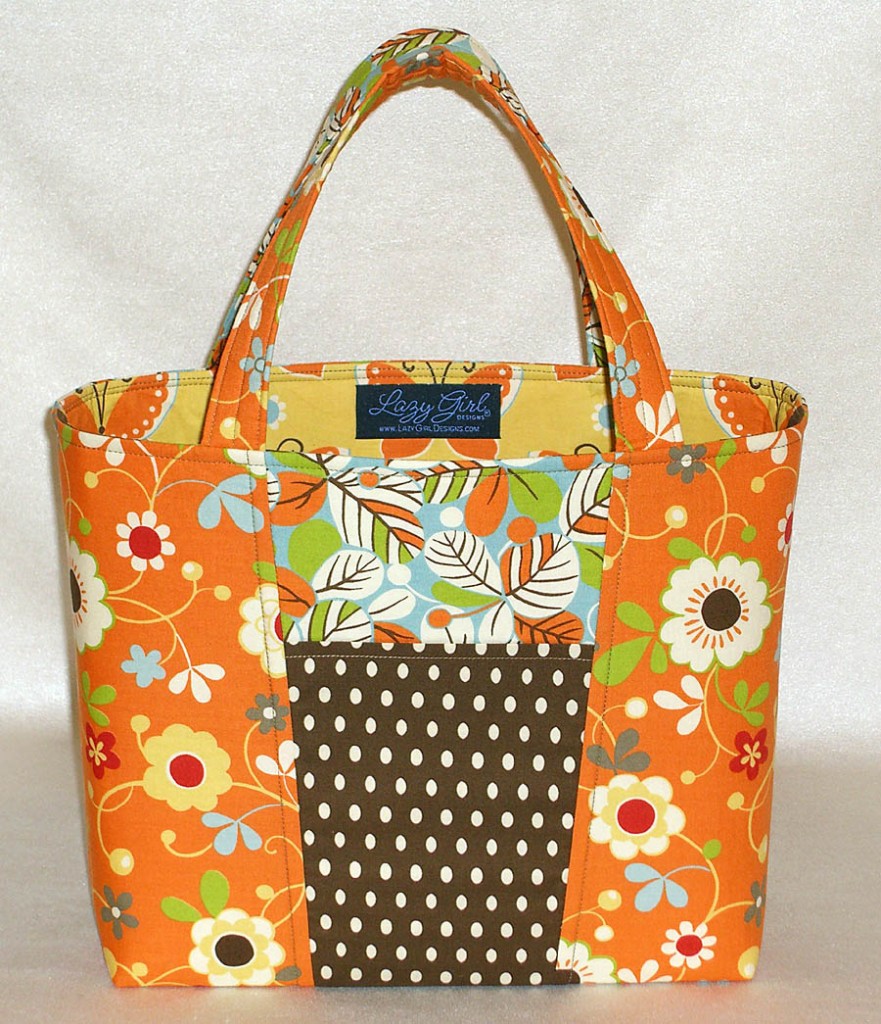 Remember, on Claire, the front and back play the ole' switcheroo with the two main fabrics so the back view is different. And the inside is a feast of fabrics. I love the orange/brown/green mix and including the cool, crisp blue is a snappy addition to this palette. The collection is not posted online yet, but you can peruse Moda's fabrics here.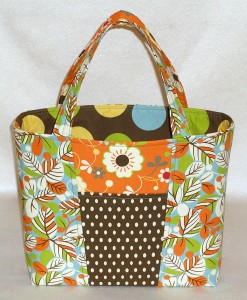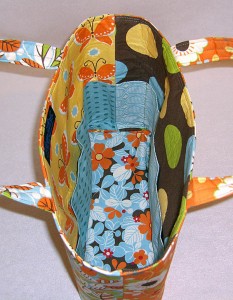 Back and inside views of 'Freebird' Claire Handbag.
'Metro Mirage' Miranda
Next up is a Miranda Day Bag all dolled up in 'Metro Mirage' from Marcus Fabrics. It's a beautiful festival of fall colors centered around the Jacobean style print on the light background. You can see the whole collection here.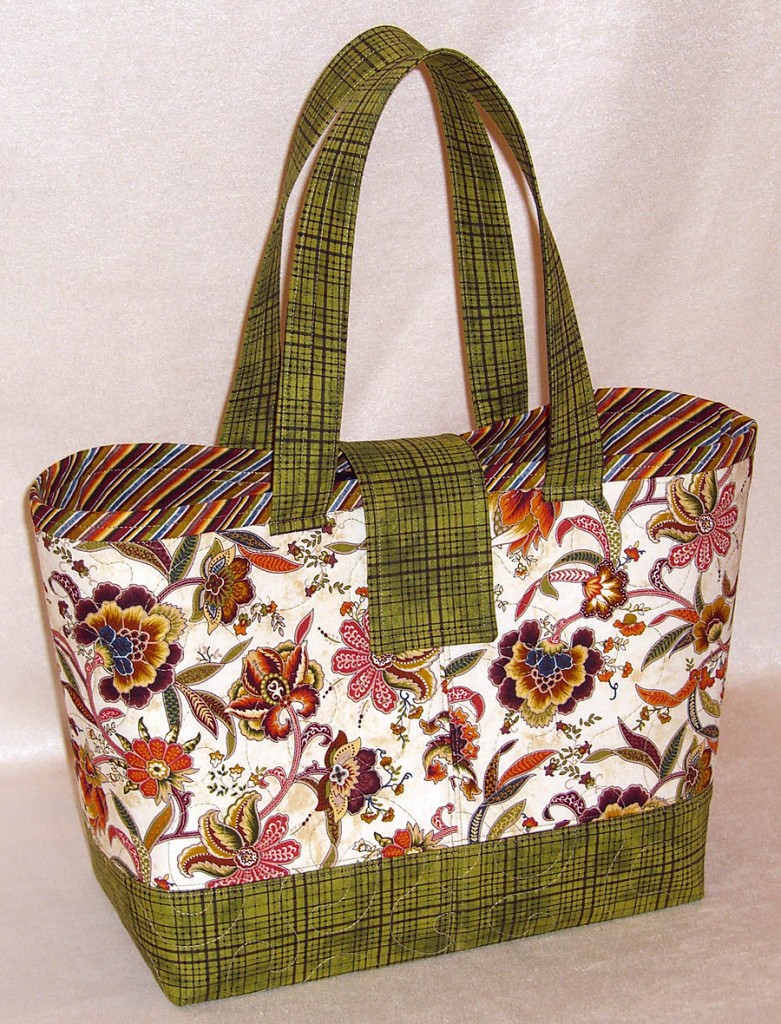 Optical Delusion
Not that it matters a lick, but when I was putting this beauty together, I thought of it as a white bag due to the main print. However, the green plaid at the bottom of the bag makes it feel like a green bag. Early on in my quilting adventures, it was explained to me that what ever color I choose for the inner border around the main part of a quilt is probably the 'color' I'd think of the quilt as being. In other words, it's a defining element. That same thinking seems to apply here with the placement of green. Although there is more of the main print, the green defines the bag for me. What about you? Do you think of it as white or green?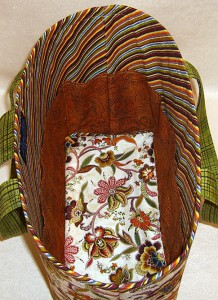 Here's an inside view. I used the feature fabric for the Bag-E-Bottom sleeve to tie the inside and outside together. Aren't those diagonal stripes fun? And the warmth of the pocket fabric makes me want to go play in a pile of leaves. I guess I've got Fall Fever.
Wardrobe Rescue Challenge
I'm hosting a Wardrobe Rescue challenge in my Yahoo group. Love to have you join us there or simply play along on your own.
The challenge
Rescue a garment from your closet or mending pile and refashioning it for use in a purse.
Buttons and button holes, pockets, finished seams and hems, collars and cuffs – all could be incorporated into bag designs as the finished details they already are.
When – now through the end of October.
Where – officially in our Lazy Girl Designs Yahoo group only.
Rules – use what you have for part of the project, tell us about it, post a pic at the Yahoo group.
Lazy – use Lazy Girl patterns or not.
Prizes – winners determined by me, prizes include patterns and fabric.
I hope to share some entries here on the blog after the challenge. As for me – I already know that the orange sherbet colored linen top in the repair heap has been there so long that it's out of style. It's begging for a life as a Lazy. And goodness, it's long sleeved – plenty of fabric to work with!
Enjoy!
Joan
Leave a Lazy Comment
24 Responses to "Quilt Market Samples and a Lazy Challenge"
Trackbacks/Pingbacks