Quilt Market: Miranda Featured in 'City Girl' From Benartex Fabrics
Lazies, International Quilt Market trade show in Houston, TX starts later this week. I have a few more pictures of Miranda, and new fabric lines, to show you before I leave for the show.
'City Girl' From Benartex
I made these two fun Mirandas from the 'City Girl' line from Benartex for Quilt Market. Benartex starts in booth #920. Stop by and meet Miranda and see the whole 'City Girl' fabric line.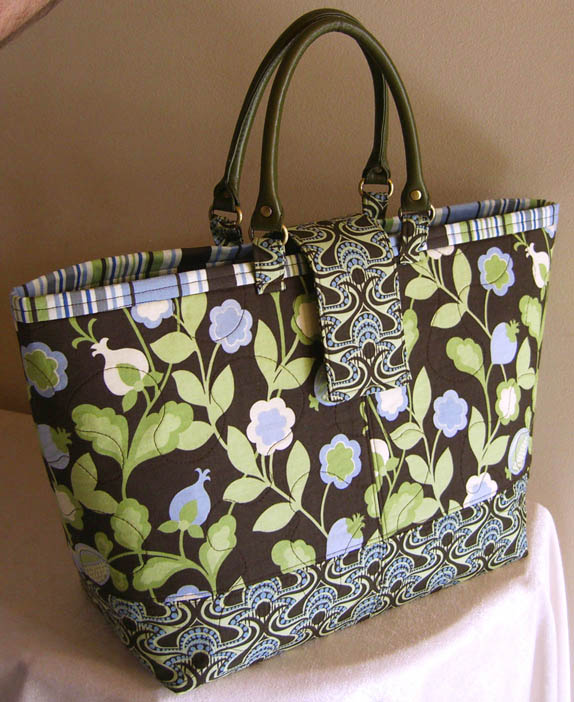 Miranda in 'City Girl' from Benartex.
#2311-44 – Main Cover
#2314-44 – Bottom, Flap Closure
#2318-55 – Lining
#2313-55 – Pockets
Handles – Leisure Arts #28304 – 13" Green
'City Girl' by Kitty Yoshida for Benartex comes in several color ways. I fell in love with the espresso/green/blue color way shown in these samples. Equally yummy and swoon-worthy are the pink/green/espresso and purple/pink color ways.
Choosing Fabrics
Each of the three fabrics shown on the Miranda above is a dynamic and vibrant print. For Miranda, I like to find three fabrics, where each offers a different scale and visual action (how your eye follows the pattern), yet work together. Miranda uses a fourth fabric for the interior pockets and sleeve for the optional Bag-E-Bottom acrylic bag support.
Beautiful Handles
The 13″ faux leather handles in green from Leisure Arts work beautifully with City Girl. The green handles are a bit darker than the greens in this fabric, but they are from the same green family. The depth and darkness of the espresso brown color makes these green handles work with this bag.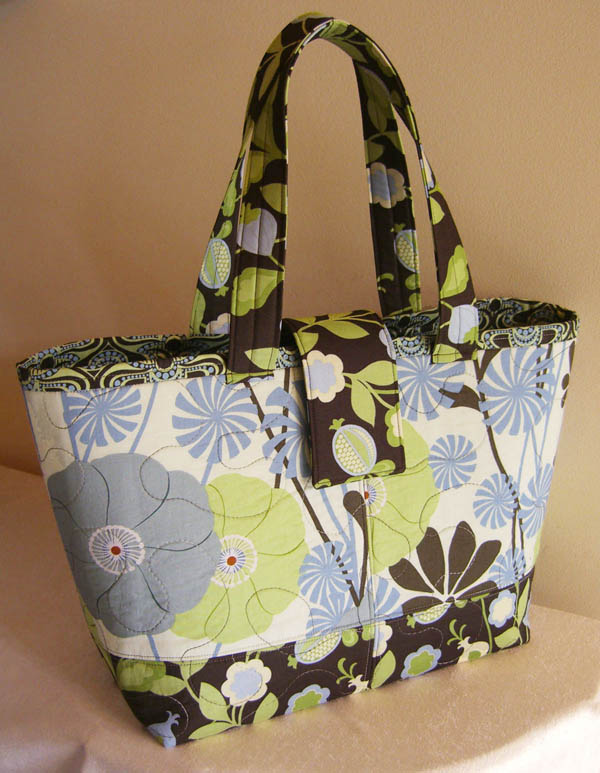 Miranda in 'City Girl' from Benartex.
#2310-44 – Main Cover
#2311-44 – Bottom, Handles, Flap Closure
#2314-44 – Lining
#2315-40 – Pockets
Fabric Handles
We get our first good look at the fabric handle option for Miranda with the sample above. I love the fabric handle design on Miranda. The pattern offers handles in short or long (shoulder strap length), using the same placement on the bag. The handle construction is durable, yet the handles remain soft and comfortable in the hand or over the shoulder.
The flap closure, bottom of the bag and handles all use the same fabric. From a visual standpoint, this ties the top, middle and bottom of the bag together.
Fabric Availability
'City Girl' fabric from Benartex will be available January 2008.
Miranda Demo
One more Market note. I will be demonstrating Miranda in Checker Distributor's booth on Saturday afternoon around 2 pm. Check the demonstration schedule at their booth #624.
More Mirandas tomorrow, then we take a blogging break until after Market.
Enjoy!
Joan
[tags]Benartex, quilted tote, leather handles, Lazy Girl Designs[/tags]
Leave a Lazy Comment
One Response to "Quilt Market: Miranda Featured in 'City Girl' From Benartex Fabrics"