Make Your Next Tote With Batiks And Faux Leather Handles
Lazies, Here is a Miranda I made for my friend Nancy using a collection of 1/2 yard cuts from www.SewBatik.com.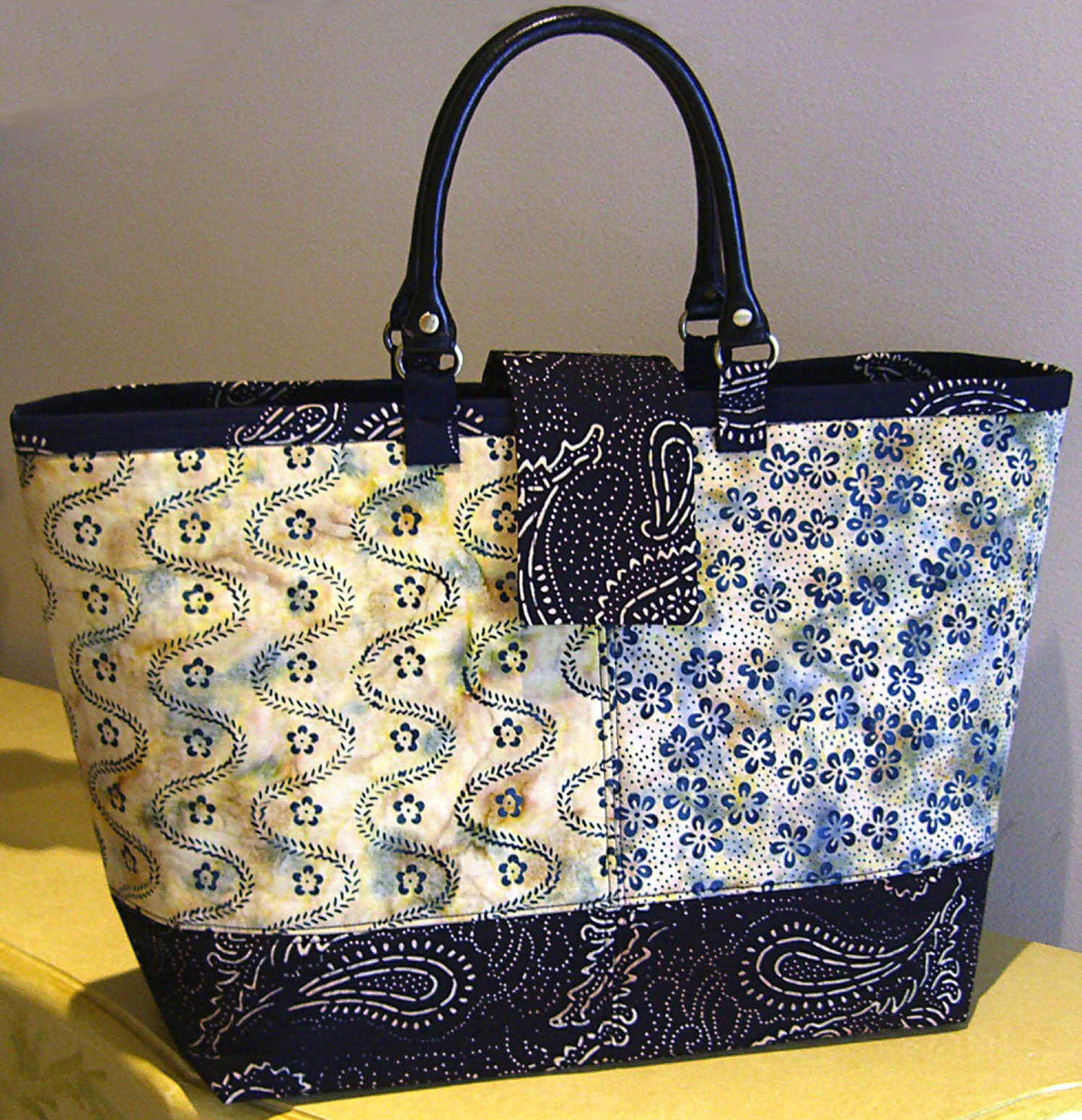 Miranda Day Bag, Lazy Girl Designs #LGD123
Mix It Up With Some Fabric Fun
I mixed things up a bit for the cover, making the most of the different size prints and visual movement of the wavy lines. I love the black with paisley at the top and bottom of the bag. These are two different fabrics, one having more going on in the background than the other.
The fabric around the top edge of the bag is actually the lining fabric. This makes for a dark interior for a bag. To lighten things up a bit, I used two light butter cream fabrics. One for the pockets, one for the sleeve encasing the Bag-E-Bottom Size D bag support.
I surfed over to Sew Batik and didn't see the bundle I bought, so I might have picked out a few that went together. I found three of the fabrics: paisley, little flowers, butter cream.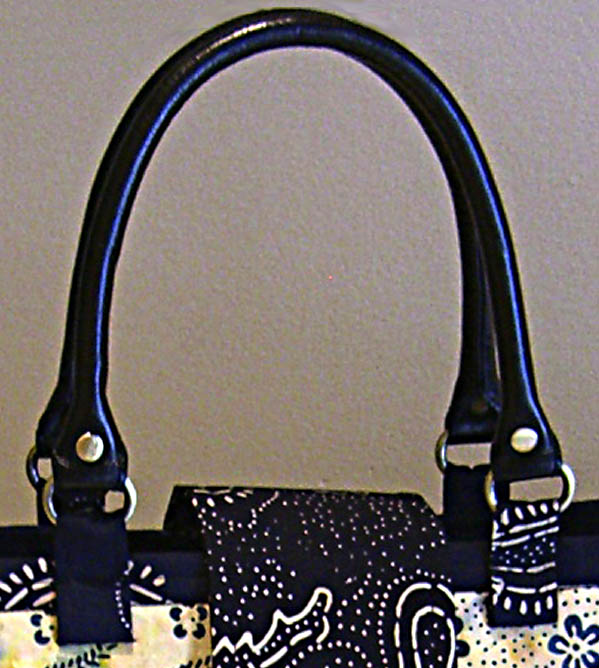 Yummy 13″ faux leather handle pair from Leisure Arts.
Get A Grip With Great Handles
I used the Exclusively You 13″ black faux leather handle pair from Leisure Arts. These handle pairs are fabulous. They are soft, come in some juicy colors, and add a refined casualness to your project.
Mind Your Metal
The metal rings on these handles have a nice modern antique brass finish. They blend well with the yummy yellows and golds of these batiks. These rings are not detachable so the handles need to be sewn into place during construction.
I Tried A New Batting And I Liked It
I used fusible fleece (item #987F) from Pellon for the batting in this project and liked it quite a bit. Some of the Lazies in my Yahoo group have been raving about it for some time and I finally got my hands on some while at Rita's retreat last month – Thanks Rita!
The fleece has a fusible on one side, can be quilted or stitched, and did not gum-up my needle. It's very thin, too. I like that. I fused the fleece to the wrong side of the batik and did not quilt any of it. Frankly, quilting would have been quicker – it takes a few minutes to fuse all of that area.
Find Nancy's Miranda At Market
Nancy will be roaming the show floor at Quilt Market later this month, with her new batik black and butter creamy Miranda at her side, keeping her company and keeping her organized. If you see Nancy's Miranda, stop the woman carrying her, introduce yourself and inspect her Miranda.
Enjoy!
Joan
PS: I am joining more than 20,000 other bloggers around the world dedicating today's blog post to Blog Action Day in support of environmental awareness.
[tags]blog action day, batik fabrics, quilted tote, Sew Batik, Lazy Girl Designs[/tags]
Leave a Lazy Comment
3 Responses to "Make Your Next Tote With Batiks And Faux Leather Handles"