Make A Beautiful Tote Bag With Blocks From A Favorite Quilt
Lazies, Why keep your quilt blocks confined to a quilt? Lazy Girl Jen Buettner shares a simple way to get your blocks off the bed and onto your next quilted tote bag.
Jen is one of the most prolific quilters I know, and I keep up with her quilting adventures at her blog Cre8tive Quilter, which is where I discovered her beautiful Miranda Day Bag (Lazy Girl #123) shown below.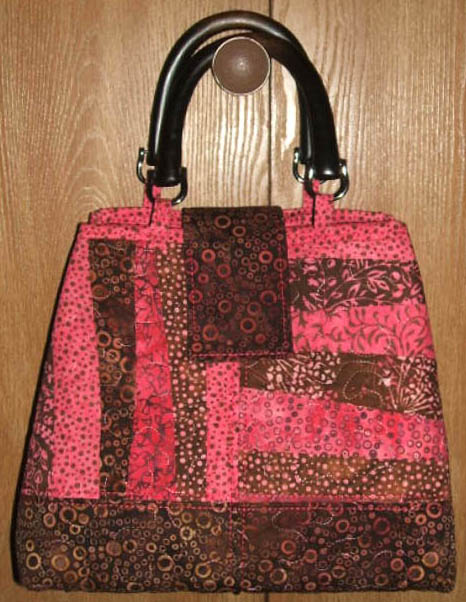 Jen's yummy pink and brown batik Miranda.
Here's Jen
I found my inspiration for this Miranda Day Bag from the quilt pattern 'A Bit Askew' by Blue Underground Studios, which I recently finished to hang above my Aunt Karen's fireplace.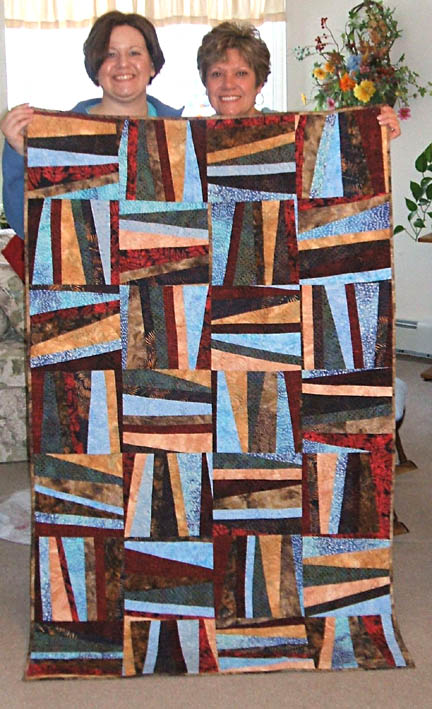 Jen and Aunt Karen with 'A Bit Askew' quilt.
I began to think the block design from the quilt would be really cool as a Miranda, and I began to dream of pink and brown batiks.
I stitched the fabric strips directly to pieces of batting to build each block component needed for the outside of the bag. I really wanted to keep the design looking fresh and ultra modern.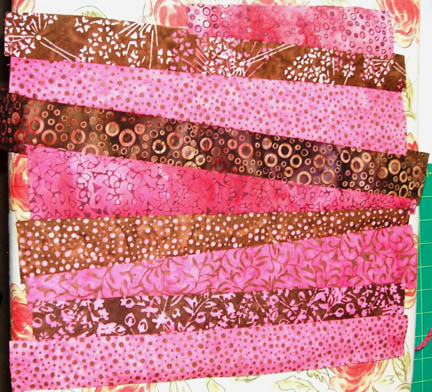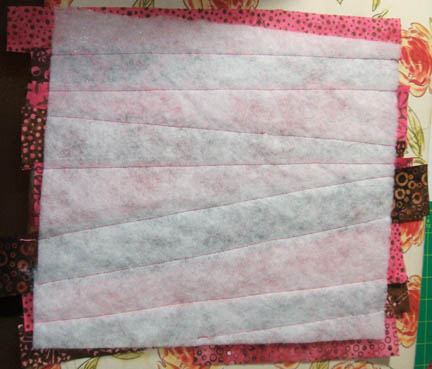 Strips are sewn directly to the batting, then re-cut for blocks.
I cut 4 pieces of batting. I pieced horizontal fabric strips on two blocks and vertical strips on two blocks. When finished, I re-cut the pieced blocks of strips to the size needed for the project.
Piecing the fabric strips and batting at the same time gives the bag a more artsy appeal while keeping the fabrics crisp and in place.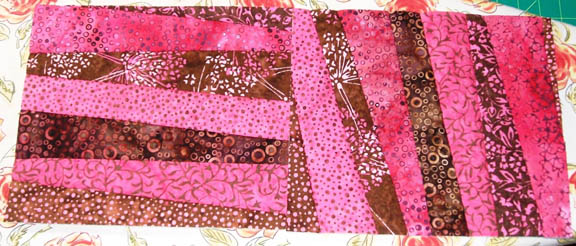 Pieced blocks for the Miranda Day Bag.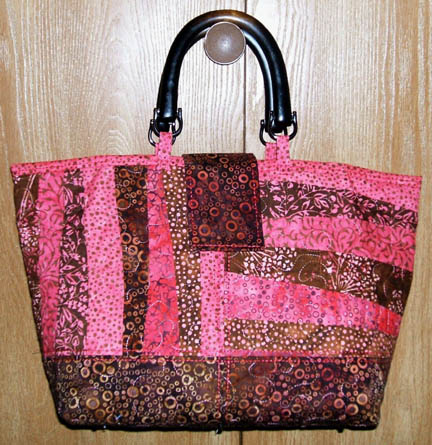 Jen's Miranda Day Bag.
While there's nothing wrong with a quilted bag; because I do love them myself, I am in my early 30's and I sometimes get the 'raised eyebrow' look from some of my friends who still view quilting as something for people of their mother's age. I hope to suck them into the quilting world one at a time!
– Jen B, Cre8tive Quilter
Notes and Tips
Thanks Jen! Lazies, this is a simple technique you can use with your favorite quilt patterns (or blocks), tote bag patterns, purse patterns or any bag pattern.
In the Miranda pattern, the blocks are simply rectangular cuts of fabric. You can use any technique you like to build, or piece, the rectangles needed. Consider paper piecing, crazy quilting, applique, etc.
If you have left over blocks waiting for a purpose, make a bag. For Miranda: to use large square blocks, simply cut a rectangle out of a block. To use smaller blocks, add fabric strips to the sides to make a rectangle.
Is your favorite quilt design destined to be a bag?
Enjoy!
Joan
[tags]quilted tote, quilt block, stitch and flip[/tags]
Leave a Lazy Comment
16 Responses to "Make A Beautiful Tote Bag With Blocks From A Favorite Quilt"