Autumn Leaves And Warm Fall Colors Greet The New Owners Of These Miranda Day Bags
Lazies, Eight of these beautiful, Autumny, and yummy, Mirandas will be attending Quilt Market next week on the arms of their yet-to-be-determined owners! Intrigued? Excellent, read on…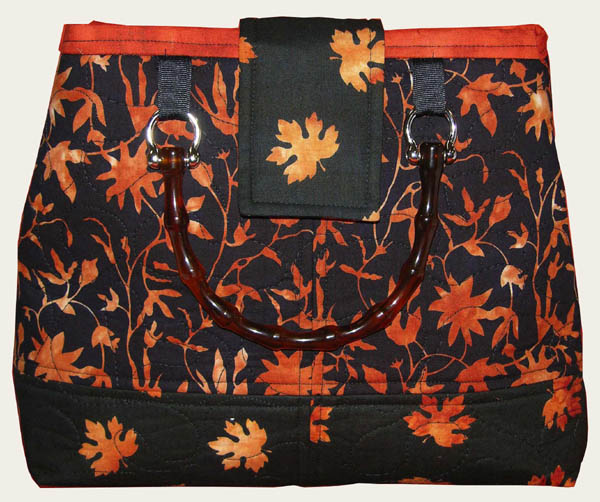 Miranda Day Bag with Amber 'U' shaped handles from Clover.
Checker Distributors created these eight Miranda Day Bags for the Fabric Shop Network member's dinner event at Quilt Market in Houston next week. Thanks to Checker, these bags will go home with 8 lucky Lazies (store owners) from that dinner.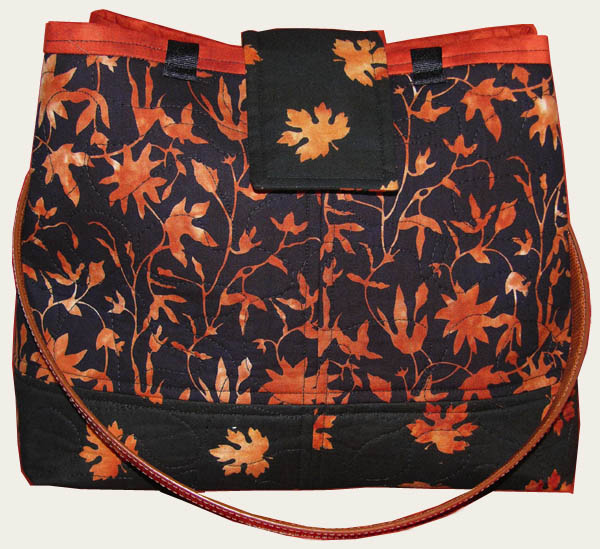 Miranda is also outfitted with a convenient shoulder strap from Leisure Arts.
A Bright Idea
When store owners return from Market, they are challenged to get samples made of all the new designs they've purchased. Checker's clever idea is to create samples that store owners could use during the show and then have a sample for use in the store when they get home.
Test Drive Miranda At Market
Checker has equipped these Mirandas with beautiful Clover fashion handles and a detachable, comfy, stylish shoulder strap using a Leisure Arts 27″ Mock Snake handle and swivel clasps.
Checker filled the bags with all sorts of goodies. From bottled water, a note pad and pen (essentials for getting around the floor) to an assortment of Creative Grids rulers for use when they get home. What a fabulous package.
How To Get One
The Mirandas will be at the much-anticipated member's dinner for Fabric Shop Network, the trade organization for independent quilt and fabric shop owners. FabShop hosts this fun-filled event, always with a creative theme, just before the Market opens for business. The Mirandas will be part of the fun at the FabShop dinner and that's all I'm allowed to say in advance of the event.
Clover Needlecraft
Clover contributed some of my favorite fashion handles to Checker's project. The amber colored 'U' shaped handles, item #6334, are like a cross between a reddish tortoise coloring with a bamboo styling. It's simply cool and happens to go great with earth tones.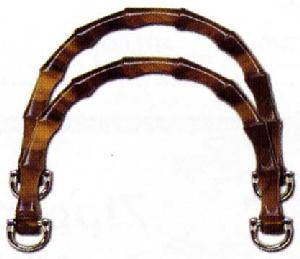 Amber 'U' Shaped Handle pair from Clover.
Leisure Arts
Leisure Arts contributed their new Mock Snake 27″ handle in copper, as well as the swivel clasps which make the strap detachable. The handle works as a shoulder strap, which clips on at the side seams. The copper coloring goes beautifully with the fabrics.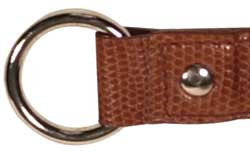 27″ Mock Snake handle in Copper from Leisure Arts.
Fabric and Product Details
Main part of bag: Galaxy Fabrics, Beige Brown Silhouetted Vines, Item #SIG625-12
Bottom, pockets, flap closure: Galaxy Fabrics, Beige Brown Silhouetted Leaves, Item #SIG067-12
Lining: Kaufman Rust Marbleous" Item #DRJ6110179
Clover Needlecraft 'U' Shaped Handle Pair in Amber, item #6334 
Leisure Arts Exclusively You 27″ Mock Snake handle in copper, item #28518
Leisure Arts Exclusively You set of two each Rings, Hooks and Chains in Silver, item #28519
I haven't seen these beauties in person and can't wait to see them walking around the show. Quilt Market and the FabShop dinner are trade events for the quilt industry and are closed to the public.
Joan
[tags]quilting, quilt market, Miranda Day Bag, Lazy Girl Designs[/tags]
Leave a Lazy Comment
5 Responses to "Autumn Leaves And Warm Fall Colors Greet The New Owners Of These Miranda Day Bags"