'Garden Party', Yo-Yo's and Gettin' Lazy at Quilt Market
Lazies, My friend Gerri Robinson of Planted Seed Designs stopped by the other day with a nice surprise. Gerri brought some cuts from her first line of fabric that will debut at the International Quilt Market in Salt Lake City, UT, later this week. (Quilt Market is a trade show, not open to the public.) Gerri will have a booth inside the collection of 'Troyland' booths at the show. She's also hosting a SchoolHouse Session on Thursday.
Garden Party:
Gerri's new fabric line is 'Garden Party' from Troy. It's full of scrumptious colors, with butterflies, circles, border prints and more. I made this Chelsea Tote for Gerri for the show.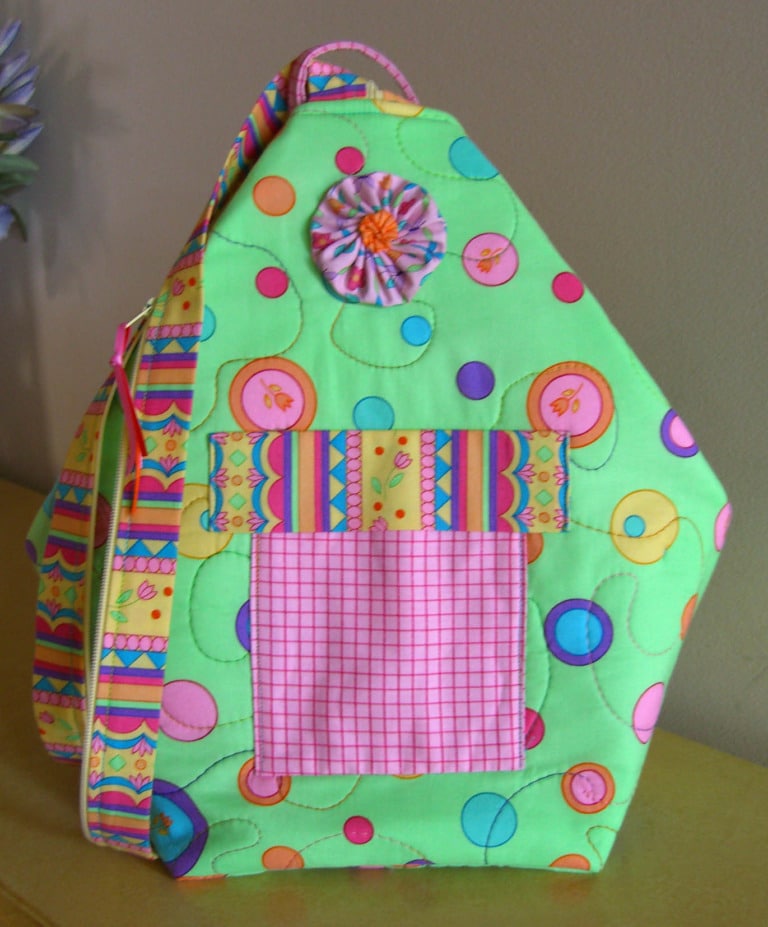 And I couldn't help myself – I added a couple of yo-yo's just for fun. Yo-yo's and 'Garden Party' seemed to go hand in hand. More about that in a minute.

Here's a view of the back of the Garden Party Chelsea. I used a bold graphic for the lining and the pink gingham for the inside pockets. Click on the image to enlarge and you'll see the delicate butterflies and squares that create the geometric design for the lining fabric.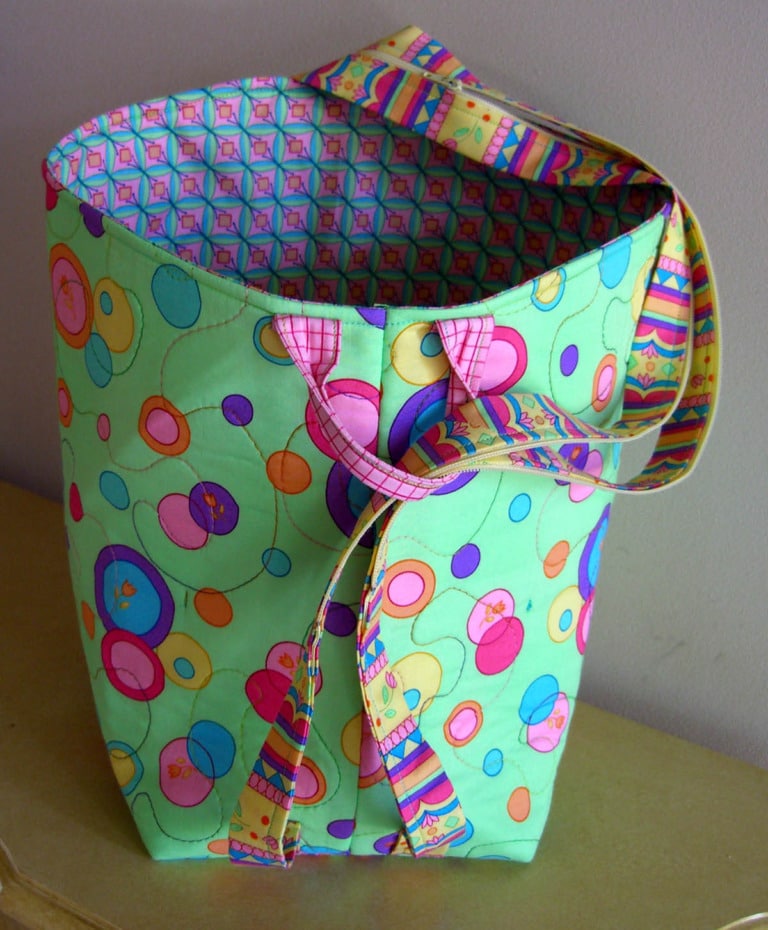 Yo-Yo's:
Now, I could hardly decorate Chelsea without making something for Gerri, too. So, I made this little lapel pin using the new extra small and extra large round Yo-Yo Makers from Clover (available mid-summer). I used two of Gerri's fabrics, a little bit of pink ribbon and added a pin to the back.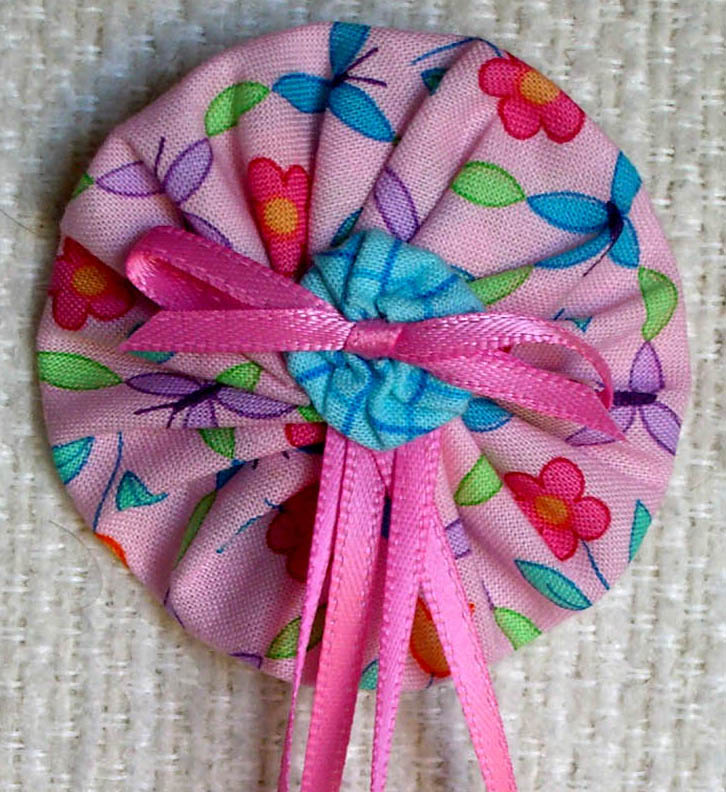 I really like the proportions of the extra small and extra large sized yo-yo's working together. The extra small yo-yo works as an accent for the extra large yo-yo.
Simply stack and center the two yo-yo's, sew together through the very center, knot in the back. Doing so creates a shank of thread between the two due to the depth, or thickness of the large yo-yo. So, I simply tied ribbon around that thread shank and let the ends hang down from between the two yo-yo's.
I made a few lapel pins for myself to wear at Market and I'll post about those later this week.
Gettin' Lazy at Market:
I am attending the International Quilt Market trade show in Salt Lake City later this week. I won't have a booth, but I am scheduled to be here and there a bit.
I have the same Lazy schedule for Friday and Saturday.
10-11 am: Book signing for my 'Bold Bags' book at Checker Distributors.
Booth 801
1-3 pm: Demonstrating rotary cutters with my Flying Geese and Lazy Angle rulers for Clover.
Booth 1426
Other than that, I'll be free-range-Lazy, roaming the exhibit hall – see you there!
I will post my Market 'trip reports' when I get home from the show.
Joan
Leave a Lazy Comment
Comments are now closed for this post.
4 Responses to "'Garden Party', Yo-Yo's and Gettin' Lazy at Quilt Market"